ABOUT THE PROJECT
TANGAUDIMAX – The Tangerine Dream SoundART Museum is a project by Bianca Froese-Acquaye in loving memory of her husband Edgar Froese (1944-2015) who founded the electronic music group Tangerine Dream in 1967. The museum was supposed to be set up in Berlin in memory of the pioneering work of Tangerine Dream and their role in electronic music history. More information and details will follow together with the simultaneous development of this project.
With the idea of an upcoming museum in mind Bianca Froese-Acquaye invited Melanie Reinisch and Felix Moser to commonly curate the touring exhibition Tangerine Dream: Zeitraffer at the Barbican Centre's Music Library in London in 2020.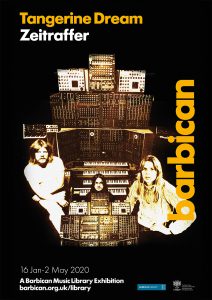 Tangerine Dream: Zeitraffer was intended to run from Thursday 16 January to Saturday 2 May 2020 at the Barbican Music Library. However, due to the pandemic the exhibition had been closed from March 2020 to July 2021.
We are glad to finally announce the reopening of the exhibition until 30th September 2021! Free admission.

Graham Packham, Chairman of the City of London Corporation's Culture, Heritage and Libraries Committee:
"Photographs, video clips from the 1970s, vintage pieces of sound equipment, and even a vinyl listening station will provide a veritable treasure trove for fans of Tangerine Dream, who will find much to enjoy, and reminisce about, in the free show."
(more press responses)
The exhibition opening featured a reading from Edgar Froese's autobiography Tangerine Dream – Force Majeure by Bianca Froese-Acquaye, concerts with Hans-Joachim Roedelius, Thorsten Quaeschning (Tangerine Dream), Hoshiko Yamane (Tangerine Dream), Paul Frick (Brandt Brauer Frick) and Steve Hillage (Gong, System 7) and a screening of the documentary Revolution Of Sound: Tangerine Dream plus Q&A with German director Margarete Kreuzer.
Watch an exhibition tour featuring interviews with the curators:
Further touring exhibitions are being planned. After the opening of the first Tangerine Dream exhibition in London others will follow in Berlin and New York. The international touring exhibitions are the prelude to a future permanent SoundArt Museum in Berlin.
If you like to support this project, you have the possibility to buy Tangerine Dream's music and other TD items in our
---
TANGERINE DREAM TODAY
Current band line-up:
Thorsten Quaeschning (synths & more)
Hoshiko Yamane (electric violin)
Paul Frick (synths & more)
Ulrich Schnauss (synths)

Current album release (Nov 2021): Probe 6-8
Last concerts: Gdansk & Warsaw in August 2021 (Europe)
Concert requests & more: eastgate music & arts; Bianca Froese-Acquaye; booking@eastgate-music.com
---
EDGAR FROESE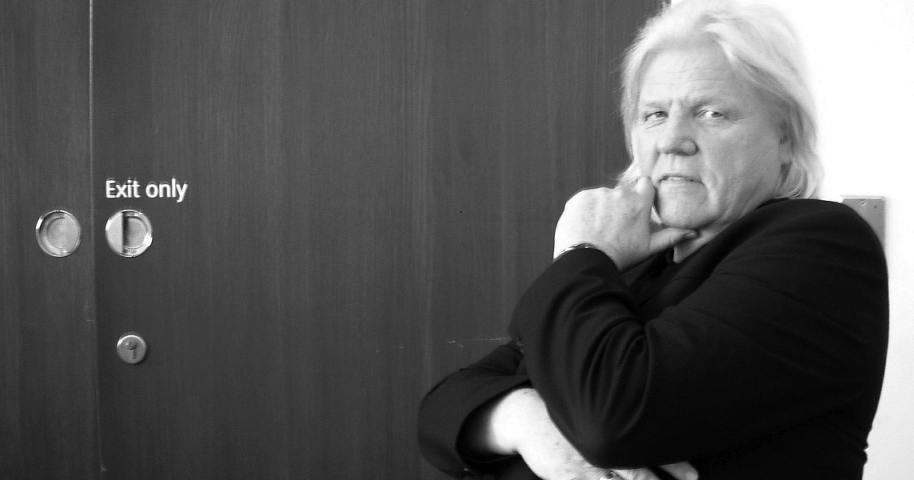 ©Photographed by Bianca Froese-Acquaye
Edgar Froese was the head and founder of the pioneering electronic band TANGERINE DREAM from 1967 until January 2015.
Please read more about him and the career of his band on the following websites: